Located in the heart of Moscow, in the mythical Red Square, the GUM department store is the most important shopping centre in Russia. Luxury boutiques in an elegant arcade makes this one of the city's top places of interest.
A look to the past
Built in the 1890s as the Upper Trading Rows, the GUM (literally translated from Russian as the Main Universal Store or State Department Store) is an elegant glass-roofed building reminiscent of the 19th century railway stations of London and Milan's beautiful shopping arcade. At its peak, there were around 1,200 stores.
After the 1917 Bolshevik Revolution, the GUM was nationalised in an effort to build communism through consumerism. However, this proved unsuccessful and in 1928 Stalin converted the arcade into office spaces. In 1953 it reopened as a department store, and was one of the few shopping centres in the Soviet Union that didn't suffer shortages, which meant it attracted long lines of customers, often stretching across Red Square. At the end of the Soviet era, GUM was privatised yet again.
GUM at a glance
With its grand façade lining one side of Red Square, the enormous GUM department store is Moscow's most important shopping centre. As you might expect, the arcade is mainly home to high-end boutiques, and may not be ideal for most budgets, but it's still a real pleasure to stroll through the elegant facilities and admire the luxurious stores.
Amidst the luxury of the GUM, you can find some gift and souvenir shops, as well as some affordable restaurants and several kiosks selling ice cream. A number of the restaurants have terraces on Red Square itself, and it's well worth a visit to enjoy a coffee - or if you're feeling indulgent, a full meal - with an unforgettable view.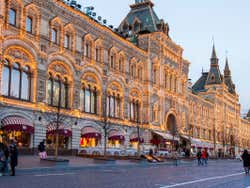 Schedule
Daily from 10 am to 10 pm.
Transport
Closest metro to Red Square: Ploschad' Rovulyutsii (line 3, blue).