Bunker 42 Cold War Museum
Built as a command post for the Soviet Union's nuclear forces, Bunker 42 is a military history museum allowing visitors to immerse themselves in the fascinating events of the Cold War and discover one of the USSR's best-kept secrets.
The Cold War was a period of high stakes tension between the Soviet communist bloc and the Western capitalist superpowers. Fearing imminent nuclear conflict, this bunker was constructed to serve as the communications headquarters in the event of an attack.
These impressive facilities hide numerous secrets and stories of espionage and events that had a major impact on the course of the Cold War.
Bunker 42 at a glance
With its entrance hidden in a Neoclassical building incapable of arousing suspicion, Bunker 42 is a complex system of tunnels and different rooms stretching out underneath Moscow's streets.
After descending more than 165 feet (50 metres) underground down the steep bunker stairs, you'll find a network of tunnels and rooms showcasing photos and objects to document this chilling period of history in which the two main world powers were at loggerheads.
During the tour, you'll learn fascinating facts about the facilities, for example that they had a complex system of recycling air and enough fuel and food to keep about 30,000 people for 90 days without going out into the outside world!
A unique experience
Bunker 42 offers the unique opportunity to travel back in time to the Cold War era of world history. You'll feel a strange sense of anxious security as you explore the museum, which also allows you to experience a simulation of a nuclear bomb explosion.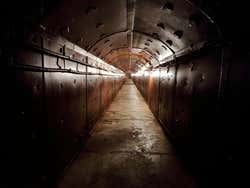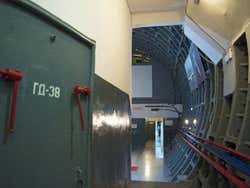 Schedule
Open daily from 10 am to 9 pm.
Cold War Tour: daily at 1:30 pm and 3:30 pm.
Declassified Tour: daily at 6:30 pm.
Bunker Secrets Tour: Mondays at 5:30 pm (must call to reserve in advance).
Price
Cold War Tour:
Adults: ₽ 2,200 (US$ 27.80)
Students: ₽ 1,300 (US$ 16.50)

Declassified Tour:
Adults: ₽ 1,800 (US$ 22.70)
Students ₽ 1,000 (US$ 12.70)

Bunker Secrets Tour: ₽ 2,800 (US$ 35.40).
Bunker-42 Cold War Museum Guided Tour € 25 (US$ 26.70)
Transport
Metro: Taganskaya, line 7.