Located in the heart of Moscow, the Pushkin State Museum of Fine Art is one of the most important in Russia, home to an enormous collection of paintings, sculptures, archaeological objects and more.
History of the museum
Moscow's Pushkin Museum has no direct relation to its namesake, the Russian poet Alexander Pushkin, and was in fact founded by a professor named Ivan Tsvetaev, who decided that the city had an urgent need for a fine arts museum.
Since opening in 1912, the Pushkin Museum has evolved and grown, its changes reflecting the historic events and developments that have marked Moscow itself. Much of the art, for example, came to the museum after the seizing of private collections of the Russian nobility after the Bolshevik Revolution.
What's in the Pushkin Museum?
Behind its impressive Neoclassical façade, the Pushkin State Museum of Fine Art is home to the largest collection of European art in Moscow. Amongst its 700,000 objects are paintings, sculptures, drawings, photographs and archaeological finds.
The impressive collection ranges from sculptures and artefacts from Ancient Greece and Egypt, to Byzantine mosaics and icons and paintings by grand masters including Monet, Rembrandt, Botticelli, Picasso, Van Gogh, Renoir and Matisse. 
Worth a visit
Moscow's Pushkin Museum is one of the most important art collections in the country, along with the Hermitage Museum in St Petersburg; if you have any plans to visit an art museum during your trip, make it this one.
Located just a few minutes' walk from the Cathedral of Christ the Saviour and only ten minutes from the Kremlin, the museum is ideally placed to visit at the same time as these other iconic landmarks.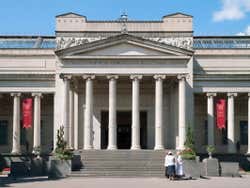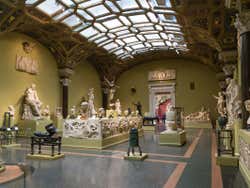 Schedule
Tuesday to Sunday: 11 am to 8 pm (Thursdays and Fridays until 9 pm).
Mondays closed.
Transport
Metro: Borovitskaya (line 9, grey), Kropotkinskaya and Biblioteka imeni Lenina (line 1, red).