Built in 1825, the mythical Bolshoi Theatre is Russia's best-known ballet and opera house and one of the most important in the world.
A look to the past
The history of the iconic Bolshoi Theatre has been marked by destruction and renovations. Originally established around 1780 as the Petrovsky Theatre, named after the prince who had founded it, the buildings in which the theatre company was located were destroyed by fires in 1805 and in 1812 during the war against Napoleon.
In 1825, the new Big (Bolshoi) Petrovsky Theatre was opened, an enormous, elegant building with room for over 2000 people. But, sadly, it met the same fate as its predecessors, and burnt down in 1853. With incredible speed, the Bolshoi Theatre was rebuilt and reopened again by 1856, bigger and better than ever.
As with the rest of Moscow's institutions, the 1917 Bolshevik Revolution saw the theatre change from the "Imperial Bolshoi" to the "State Bolshoi". It was bombed during World War II and the ensuing decades saw it fall into disrepair, despite renovation works going on throughout. Since 2002, following the dissolution of the Soviet Union, a new stage has been built, acoustics have been improved and the original Imperial decor has been restored.
Visiting the Bolshoi Theatre
The impressive façade of the Bolshoi Theatre fronts a spacious, light-filled interior, elegantly decorated in red velvet and golden stucco with sumptuous furniture. Guided tours of the theatre, which last an hour and are carried out in English or Russian, take place three times a week, however at 2000 Roubles, it's not a must-do activity. 
If you're interested in experiencing the luxury of Imperial Russia and immersing yourself in local culture - and have no restrictions on budget - the best way to visit would be to attend a performance. Ticket prices vary from 100 to 15,000 Roubles depending on seats and the show. The "New Stage" is cheaper, but doesn't quite have the same feel as the beautiful historic stage!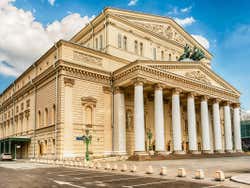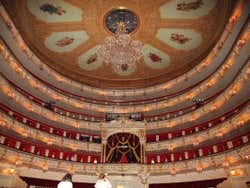 Schedule
English language guided tours: Tuesdays, Wednesdays and Fridays at 11:30 am.
Price
₽ 2,000 (US$ 24.90).
Transport
Metro: Teatral'naya (green line) and Okhotnyy ryad (red line).