A small but perfectly formed Orthodox church on Red Square, Kazan Cathedral radiates charm from its fairytale architecture.
A look to the past
Kazan Cathedral was first built in 1612 in celebration of Moscow being recovered from Polish invaders. Originally built of wood, like much of the city at that time, it was rebuilt with brick after being destroyed by fire.
Centuries later, in 1936, Stalin decided that the churches in Red Square were a hindrance to military parades and workers' celebrations, so he ordered the demolition of the small temple alongside other religious buildings in Moscow. Fortunately, its neighbour, Saint Basil's Cathedral, remained safe!
The beautiful cathedral that can be seen today was reconstructed in 1993 after the fall of the Soviet Union. With the help of photographs taken before its destruction, its current architecture appears to be faithful to that of the original temple.
The cathedral at a glance
Kazan Cathedral is typical of Russian Orthodox churches, with characteristically contrasting colours: red brick with white, green and gold trim. Curved arches, small onion domes topped with crosses and antiqued murals decorate its façade.
Inside, a small, softly lit main temple and two side chapels welcome visitors and churchgoers into a tranquil, candlelit, incensed-fragranced ambience, enhanced further by the chanting of the choir if you happen to pop in during a service.
One of the most special churches
Despite its diminutive size, Kazan Cathedral is one of the loveliest churches in Moscow. Between visits to the nearby Lenin's Mausoleum, the GUM or the Moscow's State Historical Museum, we recommend taking a break from the hustle and bustle of Red Square to embrace the peace and quiet of this welcoming temple.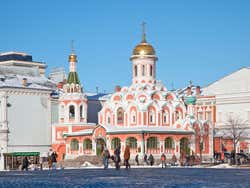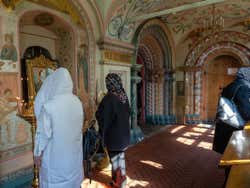 Schedule
Daily: 8 am to 7 pm.