Opened in 1967, the Ostankino Tower in Moscow was the first free-standing structure to exceed 1,600 feet (500 metres), making it the tallest building in the world until 1974. It remains the tallest free-standing structure in Europe, and has an observation deck as well as a number of restaurants.
The Ostankino Tower, located in the north of the Moscow, was opened in 1967 to offer television and telephone services to more than 15 million people. In the upper part it has an observation deck located at 1,115 feet (340 metres) high.
The imposing structure was designed by well-known Soviet engineer Nikolai Nikitin, who built the tower in a simple and attractive design from reinforced concrete and steel cables.
Much of the tower is occupied by telecommunications services, but just below the observation deck is "Seventh Heaven", a circular revolving restaurant offering delicious food with a view.
Not for everyone
As the Ostankino Tower is located quite far from the city centre, it is not the most recommendable option, as it's not easy to get to and additionally does not offer the best views over Moscow. If you are interested in visiting, you must remember to book tickets in advance and bring your passport with you. Children under 6 years old are not permitted to enter. Being just 30 minutes' walk or 20 minutes' trolleybus ride from the VDNKh and Museum of Cosmonautics, you could combine your visits for a day out the city centre.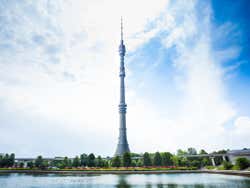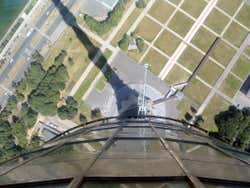 Schedule
Daily from 10 am to 11 pm.
Price
Monday-Friday:
10 am to 11 am: ₽ 900 (US$ 11.20)
12 pm to 8 pm: ₽ 1,200 (US$ 15)
9 pm to 10 pm: ₽ 1,200 (US$ 15)
Weekends and holidays: ₽ 1,400 (US$ 17.50).
Children 7-18 and retirees:
Monday-Friday:
10 am to 11 pm: ₽ 600 (US$ 7.50)
12 pm to 8 pm: ₽ 800 (US$ 10)
9 pm to 10 pm: ₽ 800 (US$ 10)
Weekends and holidays: ₽ 900 (US$ 11.20)
Transport
Metro: VDNKh (orange line) then 30 minute walk.
Trolleybus: 13, 69, 73 and 36.
Train: Ostankino Train Station.