Known for its striking buildings - as large as they are elegant - Red Square is the heart and soul not just of Moscow but of Russia as a whole, and it is home to some of the city's most iconic monuments.
Standing in Red Square and taking in the architecture around you, it's quite common to think the city square was named for its red brick buildings, or perhaps as a reference to the Communist government that ruled the country for most of the 20th century. However, the Russian word for red - krasnaya - is very similar to the word for beautiful - krasivaya - the original name for the plaza.
Throughout the years, Moscow's beautiful Red Square has played witnessed to many significant events that have marked the course of Russian history.
What to see in Red Square
The famous city square is surrounded by four impressive buildings. One of the most important, and a symbol of the country as a whole, is the spectacular Saint Basil's Cathedral. The bright colours and exquisite details of its architecture are sure to leave you speechless.
On the side of the square opposite to the Cathedral is the imposing red building housing Moscow's State Historical Museum, and next to it you'll find the Kazan Cathedral. This small, fairytale-looking church is actually a recreation of one that was demolished by the Soviet government to make way for tanks and celebrating workers.
One of long sides of Red Square borders the Kremlin, and in front of its impenetrable red wall is the curious structure housing Lenin's Mausoleum. Facing them is the GUM, an elegant department store that was built by the Tsars, then nationalised under the Soviets. Nowadays it is a luxury shopping arcade.
Its emblematic architecture and the huge number of important monuments located here make Red Square an unmissable visit on your trip to Moscow!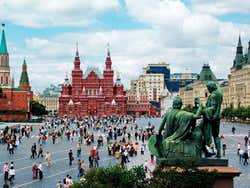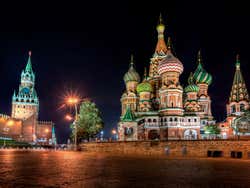 Transport
Closest metro: Ploschad' Rovulyutsii (line 3, blue).