Museum of the Great Patriotic War
The Museum of the Great Patriotic War, located in Victory Park and also known as the Victory Museum, is a history museum showcasing Russia's participation in World War II.
The museum at a glance
The largest military history museum in Russia, the Victory Museum is home to the largest collection of World War II military equipment in Europe. Throughout the Museum of the Great Patriotic War, as the Second World War is known in Russia, visitors will find letters, weapons, uniforms, photographs, newspapers, and various documents recreating a faithful, albeit tragic, account of Russia's involvement in the conflict.
In the center of the museum is the Hall of Glory, a space that pays tribute to the heroes who participated in the Great Patriotic War. This white marble room features engravings of the names of more than 11,000 recipients of the Hero of the Soviet Union award, who gave their lives for their country.
Visiting the upper floors of the Victory Museum, you'll see different exhibitions dedicated to the most important battles of the war, with detailed accounts of the events offering a complete journey through time.
Visit if you've got time to spare
Moscow's Museum of the Great Patriotic War documents some of the most important chapters in recent Russian history, so it may well be high on the list for history buffs visiting the Russian capital. If you don't have much time in the city, we recommend prioritizing Moscow's must-see places instead.
If you do plan to visit the museum, we recommend that you do so with the help of a specialist English-speaking guide to explain the most interesting points so that you can make the most of your time. Check out our guided tour here: Museum of the Great Patriotic War Guided Tour.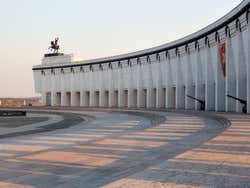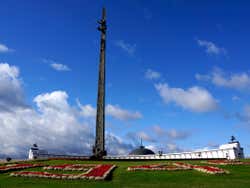 Schedule
Tuesday to Sunday: 10 am to 8:30 pm (Fridays and Saturdays until 9:30 pm).
Closed Mondays.
Price
Main museum: 300 RUB.
Open-air exhibitions (each): 300 RUB.
"Motors of War" exhibition: 150 RUB.
Combined ticket (main museum, open-air exhibitons and "Motors of War": 400 RUB.
Museum of the Great Patriotic War Guided Tour € 40 (US$ 42.90)
Transport
Metro: Park Pobedy, line 3 (blue line).