Built in the mid-16th century under Ivan the Terrible, St Basil's Cathedral is the symbol of Moscow and, often of Russia as a whole. Its brightly coloured, exquisitely carved architecture is the stuff of fairytales.
Saint Basil's Cathedral in Moscow is a proud survivor of the city's tumultuous history. Rising majestically from Red Square, it provides a striking contrast to the monochrome buildings characteristic of the Soviet era that fill much of the city. It has remained standing despite several fires, Napoleon's invasion and the demolition of churches like the  Cathedral of Christ the Saviour under Stalin.
An iconic building
Enchanting visitors with its vibrant mix of bright colours, the towers topped with differently designed onion domes - some swirled like ice creams, some textured with diamond patterns - St Basil's Cathedral is the most famous building in Moscow, offering an unforgettable postcard image for everyone who visits the city, whether at day or night.
Inside the unique exterior is a small temple made up of a labyrinth of nine different chapels, one of which is topped by the central bell tower. Each small chapel is exquisitely decorated with Orthodox iconology, gilt details and colourful murals.
One of Moscow's most precious treasures
A UNESCO World Heritage Site and internationally recognised symbol of Russia, St Basil's is one of Moscow's most spectacular monuments, a magnificent landmark that has been present for almost 500 years of the city's history.
During your trip to Moscow, you're bound to pass by the cathedral on numerous occasions: it's definitely worth seeing both in the day, to fully admire its vivid rainbow of colours, and at night, to see the lovely illuminations after dark. While it is one of of the capital's must-see monuments, if you're short on time or have a tight budget, just stick to seeing the outside.
It's often common to confuse the cathedral as part of the Kremlin, which is located just next door, but they are completely separate. As well as the Kremlin, St Basil's central location means you can combine it with a visit to Lenin's Mausoleum, the GUM or the Moscow's State Historical Museum.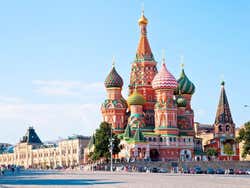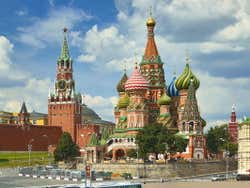 Schedule
Daily from 11 am to 5 pm (may vary depending on the season).
Price
Adults: ₽ 700 (US$ 9.10) (500 RUB for citizens of Russia and the EAEU).
Young people between 16 and 18 years and students: 150 RUB.
Children under 16 years old: free entry.
Transport
Closest metro to Red Square: Ploschad' Rovulyutsii (line 3, blue).