Located on the eastern wall of the Kremlin, next to Moscow's Red Square, the Spasskaya Tower (Tower of the Saviour) is the tallest and most striking in the citadel. The tower has an enormous clock in charge of marking the official time of the city.
A look to the past
The tower was built in 1491, during the reign of Ivan the Great, as the main entrance to the Kremlin complex. In Tsarist Russia, the gateway could only be used by heads of state or high officials, and they had to dismount from their horses and remove their hats as a sign of respect when passing through the imposing red brick tower. Legends that the Spasskaya Tower had magical powers to protect the Kremlin from enemy invasions still surround the monument!
Under the Soviet Union, Stalin replaced the imperial symbol of the two-headed eagle on top of the Spasskaya Tower with a red star, and its height with the star is 233 feet (71 metres).
One of the symbols of Moscow
The Spasskaya Tower is one of Moscow's most emblematic landmarks. Its location on Red Square, next to Saint Basil's Cathedral, makes it impossible for it to go unnoticed, and all who visit Moscow return home with snaps of it on their camera.
The enormous 20 foot (6 metre) diameter clock at the top of the tower not only marks the official Moscow time, but is also in charge of indicating the arrival of the New Year. The occasion brings thousands of citizens together each year under its watchful gaze, just like Big Ben in London or the clock in Madrid's Puerta del Sol.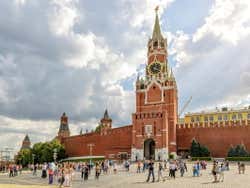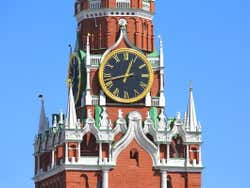 Transport
Metro: Biblioteka Imeni Lenin, line 1.