Founded by a Muscovite merchant in the mid-19th century, the State Tretyakov Gallery is one of the largest collections of Russian fine art in the world.
The State Tretyakov Gallery is housed in one of Moscow's most beautiful historic buildings, the former mansion of a noble family. The striking façade, added in the early 1900s, was designed by painter Victor Vasnetsov in a traditional Russian fairytale style.
While the museum has its mid-19th century origins in the private collection of a merchant called Pavel Mikhailovich Tretyakov, it has grown over time and these days contains over 130,000 exhibits, expanding into neighboring buildings.
The museum at a glance
The main building of the State Tretyakov Gallery has more than 60 rooms, throughout which visitors will find some of the most famous works from major Russian artists including Ivan Aivazovski, Ivan Argunov, Vasily Sukov, Abram Arkhipov, Andrei Kolkutin, Wassily Kandinsky, Andrei Rublev, Orest Kiprensk and Valentin Serov.
Exploring the museum's extensive collection, you'll find icons, paintings, and sculptures that are dedicated to telling the history of Russian art in an interesting, visual way.
Ideal for art lovers
The Tretyakov Gallery in Moscow is the best collection of Russian fine art in the world and home to numerous works of incalculable value, so it can be quite overwhelming to try and see everything. If Russian art is something you're interested in, we recommend booking a guided tour that will allow you to discover the main highlights of the museum while making the most of your time. You can see all the information about the visit and book on this link: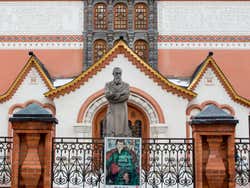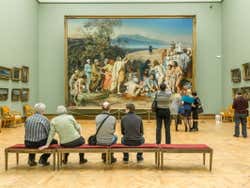 Schedule
Tuesdays, Wednesdays, and Sundays: 10 am to 6 pm
Thursdays, Fridays, and Saturdays: 10 am to 9 pm
Mondays: closed
Transport
Metro: Tretyakovskaya, lines 6 and 8