Housed in one of the main buildings on Red Square, the State Historical Museum in Moscow was opened in 1872 to showcase Russian history.
The museum at a glance
Behind its imposing red façade, which complements the Kremlin wall perfectly, the Moscow State Historical Museum welcomes visitors into a majestic hall decorated with paintings detailing the family tree of the Russian monarchy.
The museum takes visitors on a journey through Russian history, beginning with exhibitions on the Stone, Bronze and Metal Ages. Different archaeological artefacts and documents provide fascinating insight on the important events that marked the course of the country's history.
The second floor of the museum is dedicated to more recent Russian history, with exhibitions covering the 18th, 19th and 20th centuries.
Not for everyone
The State Historical Museum is located in one of the main buildings on Moscow's Red Square, and you're very likely to see it several times during your trip to the Russian capital. If you're interested in Russian history and have time to spare, it's worth a visit. If you're short on time, it's not a must-see.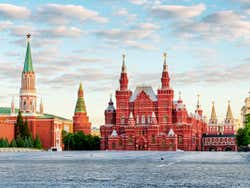 Schedule
September to May:
Wednesday to Monday from 10 am to 6 pm (Fridays and Saturdays until 9 pm; Tuesdays closed).
June to August:
Daily from 10 am to 9 pm.
Price
General: ₽ 500 (US$ 6.30).
Transport
Metro: Okhotny Ryad (line 1, red), Teatralnaya (line 2, green) and Ploschad Revolyutsii (line 3, blue).