All-Russia Exhibition Centre
Built in 1939, the All-Russia Exhibition Centre, or VDNKh, was one of Moscow's main leisure areas during the Soviet era, and was designed to showcase the socialist economy and lifestyle.
A look to the past
Originally constructed to host a Soviet Union-wide agricultural exhibition, this enormous park was later transformed to pay tribute to all of Russia's economic, scientific and technological achievements.
Throughout the Soviet era, hundreds of national and international exhibitions and conferences took place here, but by the 1980s, a lack of state funding left many of the once-elegant pavilions in a state of disrepair.
Since the 2000s, renovation projects have been in process to restore this unique historical and architectural complex to its former glory.
A journey through time
After passing under the enormous triumphal arch of the entrance, you'll be faced with a wide avenue leading up to the imposing main monument of the park, the House of the Peoples of Russia, just in front of which stands a statue of Lenin.
Spread over several acres, the All-Russia Exhibition Centre is home to lavish gilt-decorated statues, elegant fountains and grand pavilions designed in great detail to represent all of the Soviet republics and various industries, from geology to space exploration.
An interesting visit
The VDNKh, as it is abbreviated in Russian, is located relatively far from the city centre (around an hour on public transport). However, if you do have the time to spare on your trip to Moscow, the park is highly recommended for incomparable insight into life in the Soviet Union.
Once you're in the vicinity, take the time to visit the nearby Memorial Museum of Cosmonautics, located just outside of the park's entrance as you're coming out of the metro. You won't miss the towering 350-foot (199 metre) tall titanium obelisk, a monument to the "Conquerors of Space", built in 1964 to commemorate the launch of Sputnik.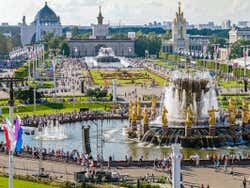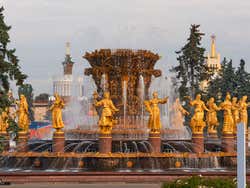 Transport
Metro: VDNKh (orange line).