Built as a large outdoor monument to commemorate one of the most important chapters in the country's history, Moscow's Victory Park is a wonderful green space that pays tribute to the victory of the Soviet people during the Great Patriotic War.
Located to the southwest of Moscow city centre on Poklonnaya Gora, or "Bow-Down Hill", Victory Park (Park Pobedy in Russian) is a large green space and open-air museum paying tribute to Russian war victories. Inaugurated in the 1960s in celebration of the Russian triumph over Napoleon, further memorials were added in the ensuing decades, and in 1995 the first post-Soviet parade was held here. In 2005, Putin opened a new monument to commemorate the Red Army's efforts in World War II, known in Russia as the Great Patriotic War.
A walk in the park
The most striking feature of the park is the Monument to Victory, an impressive obelisk that towers above its visitors at exactly 141.8 metres (465 feet) in height (10 cm, or 3.9 inches, for every day Russia was involved in the war). A large sculpture of Nike, the Greek goddess of victory, is barely visible at the top of the obelisk, which is another creation by the designer of the controversial Statue of Peter the Great.
Victory Park is also home to the Museum of the Great Patriotic War, an ideal place to learn about the history of Russia's participation in World War II. In front of the museum is a long avenue lined with fountains which are illuminated in red at night in remembrance of the bloodshed during the continuous battles. A triumphal arch, numerous sculptures and a memorial church, mosque and synagogue can also be found throughout the park.
Tranquillity and history
Moscow's Victory Park offers the opportunity to stroll through the gardens to relax and reflect on some of the events that marked the course of the country's, and for that matter, the world's history. If you're lucky and your trip coincides with one of the city's holidays, one of the most special dates to visit the park is May 9th, Victory Day. You'll see the city dressed in their best clothes, celebrating and looking to the future with joy and optimism.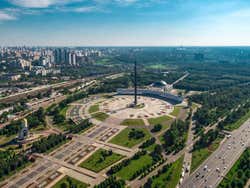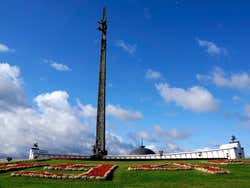 Transport
Metro:Park Pobedy, lines 3 and 8A.